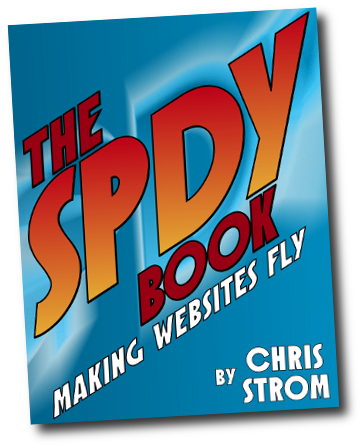 The SPDY Book
Now Shipping!
SPDY is a new protocol built on top of HTTP aimed at reducing page load times by 50% or more.
It's a Release Party!
The first edition of the SPDY Book is now available!

The SPDY Book is just $24!
The SPDY Book is 150+ pages of SPDY goodness and is delivered in a handy ZIP file that includes PDF, mobi and epub formats.
Building high performance websites is hard—let's go shopping! Better yet, let's take the best ideas from the past 10 years on how to improve HTTP and wrap them up in a brand new protocol named SPDY. In the SPDY Book, you will learn all of the secrets behind this new protocol from Google, including:
Compressing everything
Multiplexing requests and responses in a single stream
Writing directly to the browser's cache
Step-by-step examples of how to SPDY-ize existing HTTP sites
Google is already using it in production on all of their sites to make their services even faster. Why shouldn't your websites do the same?
Not Convinced?
All of the notes and research that went into the making of the SPDY Book are available online. For free! Learn more about this unique approach to writing a book.